Nagaokakyo City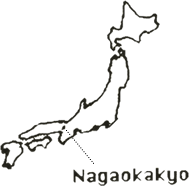 Nagaokakyo City is located in between Kyoto and Osaka. Nagaokakyo City is bordered to the north by Muko City and Kyoto City, to the east by Kyoto City, to the South by Oyamazaki Town, and to the west by Osaka Prefecture.
Nagaokakyo City offers excellent transportation convenience. Hankyu Railways runs through the central area of the city and the eastern area of the city is connected by the JR Kyoto Line and the Tokaido Shinkansen. The city is close to the Oyamazaki JCT/IC on the No. 2 Kyoto Outer Loop Expressway to connect to the Meishin Expressway and National Highway Route 171. Sixty percent of city land is flat residential land and the remainder is covered by the West Mountains, which are known for mushroom cultivation.
Named Nagaokakyo after the ancient capital that came to power in the year 784, today the city is known as a town that has achieved a balance of vast natural and historical resources with advanced industry. In addition to a tourism information center and sightseeing spots such as Hachijogaike Fureai Kaiyu no Michi (Hachijogaike Pond Nature Path), the city has setup signs providing information on historical walking paths at major tourism sites.
Tourism information
Event information
April
Bamboo sprout harvesting
Early April - early May

Spring tourism festival, bamboo sprout festival
In early spring, Nagaoka Temman-gu Shrine is lit up at night to allow for nighttime cherry blossom viewing. In late April, Rhododendron decorate the paths of Nagaoka Temmangu and there is a bamboo sprout festival.

In late April, Otokuni-dera Temple features a garden of more than 2000 peony flowers for the enjoyment of visitors.

Late June
Hydrangea festival 
In late June, Yanagitani Kannon Yokoku-ji Temple welcomes the blooming season of some 5,000 hydrangea in colors of white, reddish purple, and blue. The hydrangea festival will feature various events.
August 25
Nagaoka Temmangu Summer Festival / Hachijogaike Summer Lantern Festival
The Nagaoka Temmangu Summer Festival features Bon Odori, Rokusai Nenbutsu, and Japanese Taiko performances as well as numerous food stands. The tourism association sponsors an event that will feature sending off candle-lit bottles from the bridge on Hachijoga-ike Pond.
Mid-September
Meigetsu no Utage Performance
A night of artistic performances performed at Shoryu-ji Castle Park. Performances will include koto, shakuhachi, and Japanese dance.
Mid-October
Cosmos Festival
Cosmos picking and a mini early morning market are planned for the 2nd parking lot of the Yanagitani Kannon Yokoku-ji Temple.
Early November
Nagaokakyo Garasha Festival
Late November
Maple Leave Festival
Nagaoka Temman-gu Kinkei-en Garden, Komyo-ji Temple, and Yokoku-ji Temple will feature beautiful autumn leaves.
December
Tourism photo contest and children's photo contest
February 17
Saito Daigomaku
At the Yanagitani Kannon Yokoku-ji Temple, people write their name and wish on a piece of paper called hitogata, which is then burned as a way to ward off ailments and pray for good fortune. Priests from Nara's Mount Omine travel to support the festival.
Access to Nagaokakyo
Travel by train

By car
From the Oyamazaki JCT/IC on the Meishin Expressway to the Kyoto Throughway Nagaokakyo IC
(Travel on the expressway requires that you use the left route in order to exit.)
★Nagaokakyo Park and Ride parking lot (Municipal Nagaokakyo Station West Parking Lot)

Spaces
391 spaces (Designated spaces - 48)
Price
100 yen/20 minutes (Daily maximum: 1800 yen)
Designated zones 1000 yen/day (prior registration required)
Hours
5:00am to 1:30am the following day
[Note] Vehicles exceeding length 5.0m, height 2.3m, and width 2.0m cannot use parking lot.
Inquiries to Tourism Guide Center
Nagaokakyo Tourism Guide Center
TEL/FAX 075-951-4500 (am9:00-pm5:00)
Nagaokakyo City Tourism Information Center
TEL/FAX 075-958-4222 (am9:00-pm5:00)
Nagaokakyo City Tourism Association
TEL 075-951-4500
1-1-2 Tenjin, Nagaokakyo City
Closing dates for each information center: No closing days during April, May, June, or November. Otherwise, closing day is Wednesday